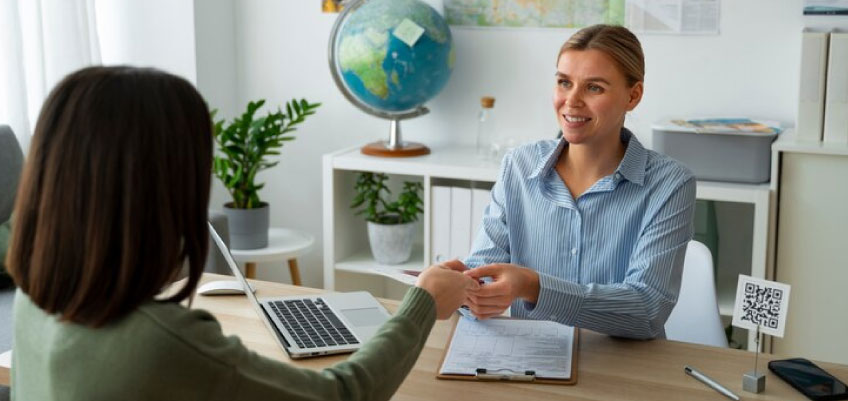 How To Find Professional Translation Services In Dubai 2023
With our unrivaled expertise, you can gain access to precise and high-quality translation services in Abu Dhabi, and Dubai. We priorities not only linguistic accuracy but also the art of eloquent expression as a leading translation agency in Dubai. We understand the importance of flawlessly translated content and its impact on communication. When you choose us for professional translation, you are choosing a partner who is dedicated to clarity, dependability, and perfection.
Our team of native-speaking translators, well-versed in diverse cultures, ensures that your message resonates effectively in English and Arabic in the dynamic landscape of global communication. We meticulously craft translations that transcend linguistic barriers for everything from engaging marketing materials like brochures and flyers to intricate industry studies. We are pioneers in providing specialised Arabic translation services, with over 7+ years of dedicated service in the heart of Dubai. Trust us with your communication objectives, and let our dedication to excellence elevate your brand in multicultural market scenarios across multiple communication channels. Choose precision over impact when it comes to translation services in Abu Dhabi.
Professional Translation Agency in Dubai
Al Rahmaniya Translation Services will help you improve your global communication. Our dynamic team specialises in the translation of legal, financial, medical, technical, and marketing content into over 120 languages. We take pride in being a forerunner among translation companies in Dubai, founded on an unwavering commitment to top-tier translation services and client satisfaction.
Our professional translation service provider team has years of experience in different languages. All the experts in our team are responsible for delivering 100% clean and quality content with proofreading. As the best translation company in Dubai, our aim is to provide cost-effective services throughout the world. Beyond translation, we offer transcription, voice-over, dubbing, interpretation, proofreading, editing, typing, attestation from local government authorities, and type-setting, providing a seamless, one-stop solution for all of your language and document needs. Collaborate with us to receive round-the-clock service from experienced, high-profile professionals who ensure efficiency without sacrificing quality. Al Rahmaniya Translation Services is your one-stop shop in Dubai for precise, dependable, and cost-effective language solutions.
How Legal Translation Service Benefits Business
The importance of legal translation services cannot be overstated in an era of global business expansion, and Al Rahmaniya Translation Services is at the forefront of facilitating seamless communication. These services are critical in bridging linguistic gaps and ensuring the smooth flow of legal documentation as businesses navigate the complexities of global operations.
Decoding Legal Jargon
Navigating through legal documents is similar to deciphering a complex code, particularly for those unfamiliar with the language. Al Rahmaniya Legal Translation Agency Dubai expertly addresses this issue by providing meticulously translated documents that make legal terms and conditions understandable, allowing businesses to easily comprehend critical aspects in foreign languages.
Compliance Across Boundaries
Operating on a global scale necessitates strict adherence to local laws and regulations. Translation companies in Dubai such as Al Rahmaniya translation services are designed to help businesses achieve compliance by translating documents into the local language. This prevents legalities from being lost in translation, lowering the risk of fines, lawsuits, or business closures due to non-compliance.
Precision in Conflict Prevention
When language barriers cause misunderstandings, the possibility of legal disputes grows. Legal translation services act as a buffer against such conflicts by providing official translation services in Dubai, reducing the possibility of misinterpretation and avoiding the costly quagmire of legal battles.
Transactions That Are Seamless in Every Language
Al Rahmaniya Translation Agency Dubai has become the driving force behind more efficient international business transactions. Businesses can engage with international partners and clients without the hindrance of language barriers by providing translated documents such as contracts, agreements, and Licenses. Communication becomes a powerful tool, fostering effective collaboration and facilitating cross-linguistic interactions.
Saving Resources Through Efficiency
Recognising the financial constraints that businesses face, Al Rahmaniya provides a cost-effective solution without sacrificing quality. By offering low-cost legal translation services, the company not only saves businesses money but also valuable time. The quick turnaround allows businesses to focus on core operations while leaving legal translation to a trusted partner. Al Rahmaniya: Legal Translation agency Dubai where precision meets efficiency and linguistic challenges are transformed into global opportunities.
Role of Professional Arabic Translation Company Dubai
Al Rahmaniya Translation agency takes pride in providing unrivaled Arabic Translation Services in Dubai, Recognising the importance of Arabic as the fifth most spoken language in the world, with over 420 million speakers. Precision Arabic translations are essential for businesses targeting markets in the Middle East, Africa, and Arabic-speaking regions, making professional translation services in Dubai a strategic necessity.
Our experienced British Arabic translators in Dhabi guarantee that the translation services we provide is only according to our client's demand and also culturally resonant. Our dedication goes beyond simple language conversion – We concentrate on providing error-free, culturally appropriate translations that help shape positive perceptions of your company, products, and services.
As a professional Translation agency in Dubai, we recognise that a professional Arabic translator in Dubai is more than just a linguist, but also a keeper of meaning and context. We hire an expert who has years of experience in the translation field including, legal, financial, medical, and technical domains. To translate documents, we use advanced tools to make sure that the document translated by our professional is clear and error-free.
Taking our advance and reliable Arabic translation services in Abu Dhabi is the best way to reach new heights for companies looking to expand their global reach. However, with our affordable translation services companies have a chance to connect with a large audience, gain competitive benefits, and ensure complains with international standards. Choose Al Rahmaniya Translation Services for a linguistic partnership that crosses borders and opens up new opportunities for your company on a global scale.